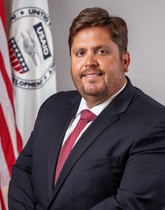 Senior Deputy Assistant Administrator
Carlos I. Suarez serves as the Senior Deputy Assistant Administrator in USAID's Bureau for Latin America and the Caribbean (LAC). Mr. Suarez brings a wealth of foreign policy expertise and intimate knowledge of Latin America to the Bureau. Prior to this current posting, he most recently worked as the principal strategic advisor and chief of staff to Ambassador Carlos Trujillo, the United States Ambassador to the Organization of American States (OAS), since 2018.
While serving in this capacity at the OAS, Mr. Suarez championed the development of policy, and ensured its alignment with U.S. priorities and multilateral diplomacy objectives. Focused on helping to advance the president's key priorities in the region, he often leveraged congressional leadership to support, and propel the U.S. Mission's initiatives, and help provide U.S. leadership within the OAS, and among other international organizations. To this end, Mr. Suarez also supported U.S. efforts towards OAS revitalization, public engagement, and worked with Ambassador Trujillo, and others to push for fiscal responsibility and reform among member states.
Before working in the public sector, Mr. Suarez held management positions within the cruise industry at Royal Caribbean International, and its subsidiary, Celebrity Cruises. A proud Cuban-American hailing from his native Miami, Mr. Suarez is bi-lingual in English and Spanish. He holds a Master's in Business Administration from Nova Southeastern University, and a Bachelor's of Science in Business Administration from Florida International University in Miami.